Do you have game-loving friends? A game loving family? Well, here are some of the best games to give this holiday season! Your game-lovers will love you for it!

Suspend
"My kids loved this game so much that we picked up several more for gifts" -Christie (Amazon)
Simple to learn but fun to play for 1-4 players.
"A great, engaging game for (most) ages." -Sheriff (Amazon)
Enjoy a little creativity on your family game night


Hedbandz
I love how simple and fun this game is! It's easy to pop in and out of while you're cooking but don't want to miss the fun!
Laughter will abound as your family thinks and plays together.
Give the gift of goofy family fun!
"Grandkids had a blast with this game – it's something all ages can play together. I'd buy it again." -Tuesday (Amazon)


Jenga GIANT
All of the building and crashing of original Jenga- just bigger!
Can be played in the house or in the lawn!
Give oversized fun with this giant Jenga
"All ages love it! Young & Old!" -Felicia (Amazon)


Speak Out
Even watching others play this game has made me bust a gut laughing!
Be ready to laugh and drool together.
"Perfect for our family! Plenty of laughs." -Racquel (Amazon)
This game is sure to provide hours of ridiculous fun.


Rook
"This is a terrific family card game. We needed a replacement because we had worn the last set out." -D. Stanley (Amazon)
Easy to learn and fun to play as a family or with friends.
Gather your family around the table and enjoy this classic game.
"Rook has been a tradition in my family for years & is played at every gathering. We've even held Rook tournaments. This card game is fun & yet challenging…" -Leahigh (Amazon)


Exploding Kittens
While the world is so enamored with kittens, why not make a game with them?
Ridiculous, engaging, family fun.
Give the kids all of the things they love, kittens, explosions, and laser beams.
"Bought this months ago. My boys (11 and 9) are still asking to play it. They can't get enough of the idiocy." -Anna (Amazon)


Quoridor
Enjoy this strategic, competitive, unique game with those you love!
This is an award winning game that is easy to learn and fun to play!
Sit down and watch your kids figure out how to beat you at this clever game.
"The only thing I don't like about this game is that my seven year old keeps beating me when we play it. Really. He smokes me, and he just LOVES it!" -Melissa (Amazon)


Over Under
Such a fun game! I'm not good at trivia, but this is trivia anyone can guess at!
Learn all about risk and reward with this game of wacky facts.
"First played this game up at the lake with family and we hall had a blast young and old :)" Memry (Amazon)
Two or more people can enjoy this game of silly trivia!


Blokus
"Blokus is such a fine game you can play it your whole life, and the game's character varies with your opponent's styles." -Carmen (Amazon)
Learning how to be both offense and defense makes for a challenging, strategic game.
"Awesome game. Very fun, easy to learn and pickup yet challenging and strategic." -Sean (Amazon)
We have this version of Blokus and LOVE it!  So easy to play together with the family. Easy set up and clean up makes it nice too!


Leaps and Ledges
"The Grandkids love to play. Great toy." -Cheryl (Amazon)
Move up and down the game board but watch out for opponents on a rampage.
Take your family game play to a whole new level.
"I gave this game to my grandson a week ago and it quickly became his favorite past time." -Mark (Amazon)


Curses
Enjoy watching your family and friends come out of their shells with this fun, fast game!
You never know what to expect! This game really keeps you on your toes!
Add some hilarity to your family fun.
"Fun game to play with a big group of people. Keeps you on your toes while playing." -Elaina (Amazon)


Guillotine
A game your clever teenagers will enjoy!
Learn a little history while you enjoy this head chopping card game.
"This is by far my favorite card game. " -A.W. (Amazon)
"I've owned the same boxed set since I was 16, and I'm 27 now. I still get just as much of a kick out of it now as I did then, and this set still has a lot of miles yet to go before I need to purchase another…. it isn't just for kids. Adults can have a blast with it, too." – Alan (Amazon)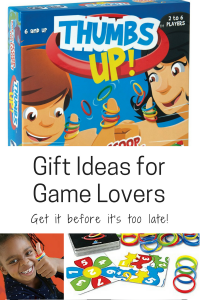 Thumbs Up
"Fun game to build fine motor skills." -Pamela (Amazon)
Racing to scoop the loops builds family love and fine motor skills.
Get this game for quick and easy family fun!
"This is a wonderful game for building visual-motor speed and concentration skills. It is recommended for children 6 and up, but I would also recommend it for younger children to learn color and number recognition." -Neal (Amazon)


Pie Face
"I bought this for our Thanksgiving get together after seeing my husbands aunt post videos of this of her grandchildren. It's absolutely hysterical…" – Joshua (Amazon)
Get your whipped cream or wet sponge ready and be ready to laugh.
Get ready to get messy!
"… The entire family had a blast playing PieFace." -Amazon customer (Amazon)


Rummikub
My family loves playing this game! We often pull out Rummikub instead of turning on a movie!
More than 50 million families can't be wrong about this exciting game.
Enjoy building STEM skills with your family at all ages.
"Got it as a Christmas gift for my parents last year and they absolutely love it! We play this game for hours and helps time fly by." -Jackie (Amazon)

Enjoy these games with those you love!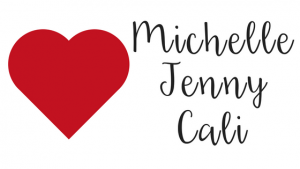 Check out these other amazing gift ideas!