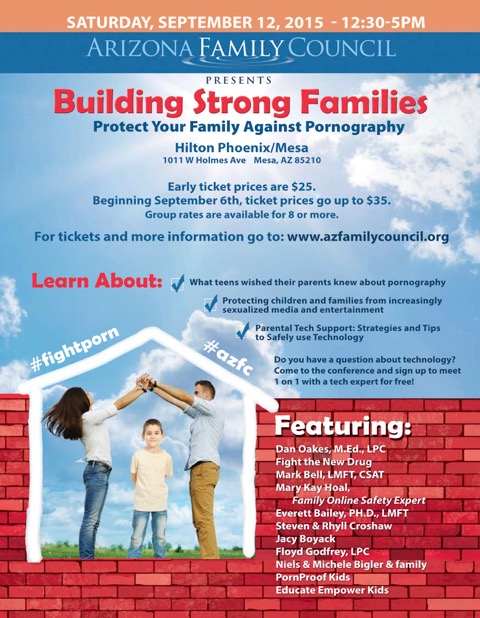 This week I had a chance to visit with Robyn Anderson, a board member on the Arizona Family Council, about the upcoming conference, "Building Strong Families:  Protect Your Family Against Porngraphy."  I left our conversation feeling so excited to share and attend the event next weekend in Mesa, AZ and strongly encourage you to get your tickets!
Now, I don't really get excited when I think about talking to my kids about hard topics like pornography.  However, I do get excited about great resources, and next weekend is packed with the best available.  You do not want to miss it!  So let's cover some details.
How much will it cost?
$10 a ticket.  That's it!  The price listed on the flyer has been reduced to allow as many people as possible to attend.  Bring anyone over 12!
Who is this conference for?
Every family and their children over 12 years old.  Pornography impacts everyone.  All of our children will see it.
Really, 12 and over?
Yes.  When I talked to Robyn she shared that in each rotation, one of the speakers will be geared to the teenage population.  Honestly, I'm sitting the fence with my 12 year old wondering if he would learn better from the highlights we bring home.  However, the greatest gift this conference gives is bringing the discussion of fighting pornography out into the open.  If it's too much for him, we'll just get to talk more.  Truthfully though, I probably just wish it was too much for him.  Reality is that many young people under 12 are exposed and lured into the snare of pornography.  Part of the problem is that we are waiting too long to talk about it.  I have no hesitations for the 13 and over crowd–bring 'em!
What can I expect?
In one afternoon, you have the chance to learn from a powerhouse collection of national experts in the fight against pornography.  These are people who are in the trenches, and they are ready to teach you practical tools to protect and defend your family.  You will leave prepared to teach and empower your children to develop their own defense system.  Robyn shared, "Our children need the tools necessary so that when they see it, they know what to do.  When they know what it is and how it affects their brain, they can choose to push it from their mind versus allowing it to fester.  When we teach and talk about it, we remove curiosity.  We give our kids the POWER to deal with it when they are exposed."
I need more of these tools in my home!  You can even meet with a tech expert….for no additional cost!  This is an amazing value.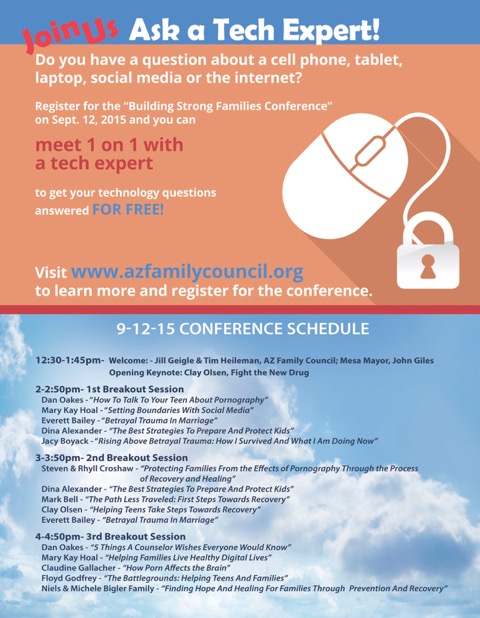 Which classes do you recommend for teens?
Mary Kay Hoal – "Setting Boundaries with Social Media"
Dina Alexander – "The Best Strategies to Prepare and Protect Kids"
Claudine Gallacher – "How Porn Affect the Brain"
Floyd Godfrey – "The Battlegrounds:  Helping Teens and Families"
Arizona Family Council has removed all excuses at only $10 per ticket.  This is an exceptional value for the caliber of presenters at the conference.  It's just a few hours on a Saturday afternoon that will strengthen your family and protect your children.  Even if you can only attend for one hour, it will be worth your time.  Help us in the effort to Build Strong Families and pass this information along today!  See you there!