Door Heart Attack
A busy week and poor planning gave way to the second tradition.  I found myself in the kitchen late at night on the eve of Valentine's Day.  I wanted to do something for the kids, but didn't have the energy to go the store and didn't want any more candy!  As I looked through our craft stash, I found a stack of red paper and decided that would have to do.
I cut out a bunch of big and small hearts.  Then grabbed a marker and wrote messages on them.
Awesome
Sweetheart
You totally rock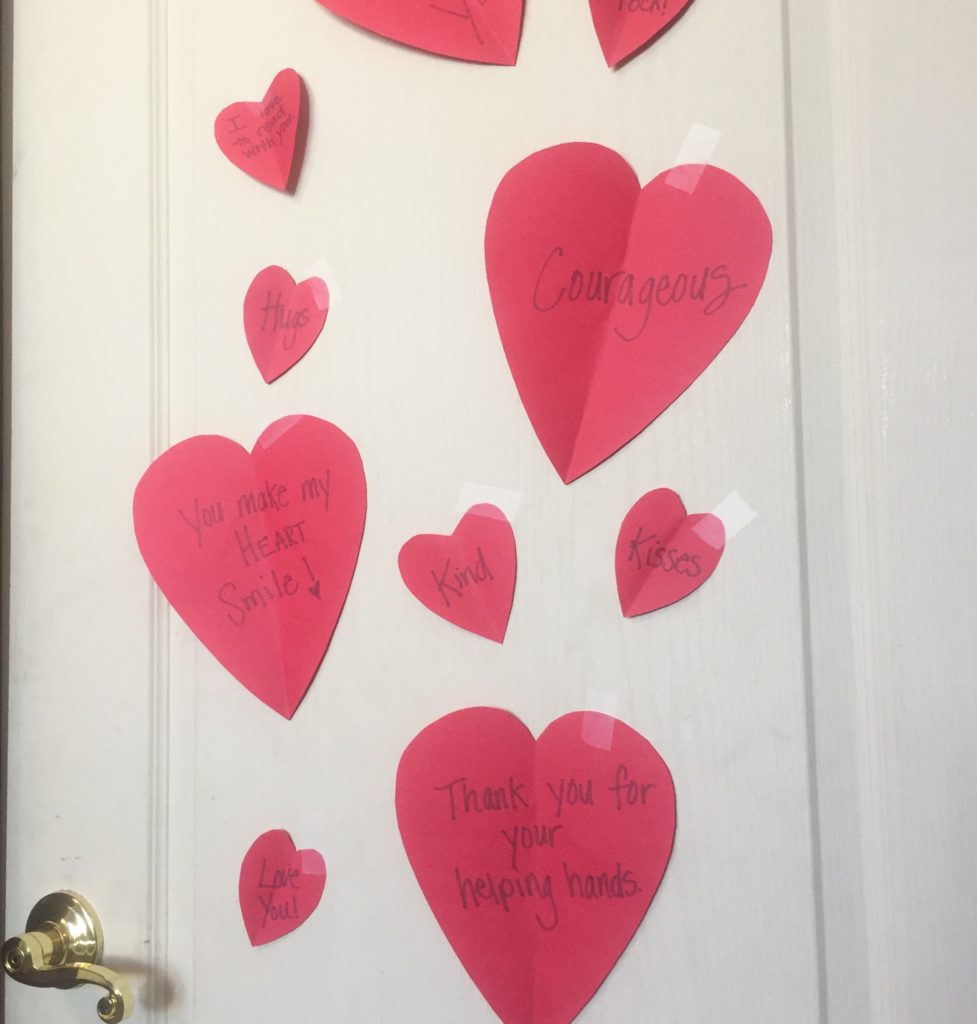 I taped them on the bedroom door and bathroom mirrors, and I was done.  These were not fancy or elaborate decorated hearts.  They were basic.  The whole affair took less than 20 minutes for 4 kiddos.
I didn't have any idea at the time that this simple demonstration was teaching my children another way to communicate love.  It was on Mother's Day a couple years into this tradition, that I woke up to a door full of hearts and messages from my little people.  Dad had not suggested it or helped at all.  So simple, but it strengthened me and gave me tremendous hope that my efforts as a mom were not in vain.
And look, we've taken some of the work out of it for you and created a free printable for you to download.  It includes 2 color schemes and blank hearts you can use to write your own messages.
CLICK HERE now to get your free printables and spread the love today!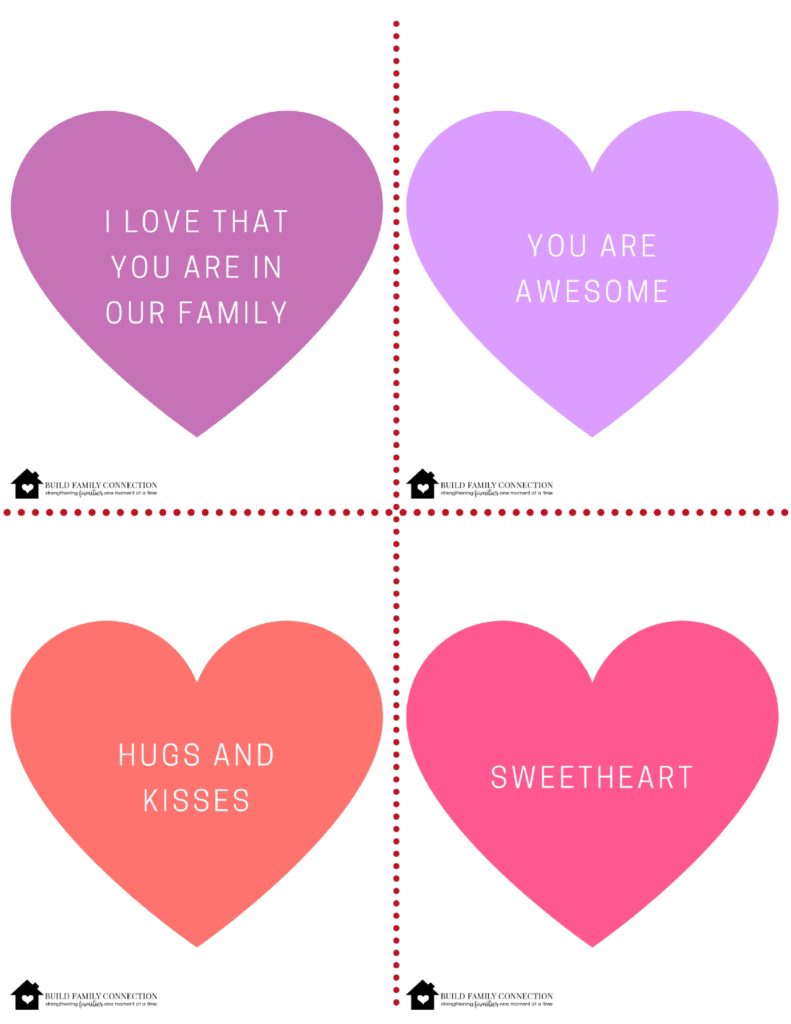 14 Days of Valentine Sticky Notes
One year I was having a particularly hard time connecting with one of my kiddos.  We weren't feeling the love and most interactions didn't end well.  I needed some way to let this child know I cared.  With the 12 days of Christmas still fresh on my mind, an idea formulated.
Why not do the 14 days of Valentine?  All it took was a pen and a pad of sticky notes.
For each day in February, I wrote a simple note and then each day left it hiding somewhere for this child to find; on the cover of a book, by the bedroom light switch, on the headboard.  You get the idea. (A great idea for spouses too!)
What did the notes say?  They varied.
"I love that you are in our family."
"I love to hear you laugh."
"I saw you helping out and felt grateful."
"What did you think about the part in this book when….I can't wait to hear."
"You were so funny yesterday when…."
"This made me think of you…." Attach it to a picture of something the child loves.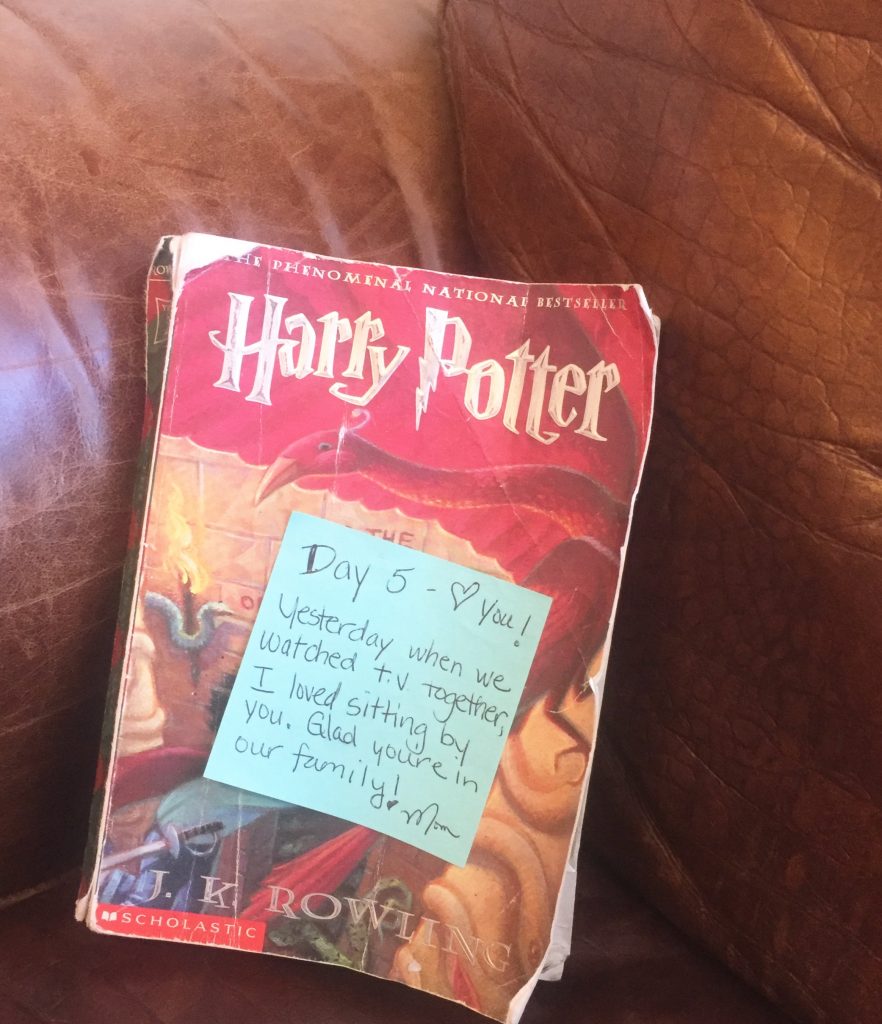 This can even become a family activity with members leaving kind notes for one another throughout the month.  These 3 traditions have become a beloved part of our family experience, but even though they are our favorites, they don't all happen every year.  Our needs change and so I love to give myself permission to adapt.
CLICK HERE now to get your free printables and spread the love today!
We've tried a heart themed breakfast, date coupons for time alone with mom and dad, small gifts, dinner served by the kiddos, a family valentine box left on the kitchen table all month to collect kind notes, and a host of other things.
What I love about these, in particular, is that they bring us closer together.  They encourage us to think of someone else and experience the goodness around us.
Now, the question is, what will you try with your family this year?  I'd love to hear!