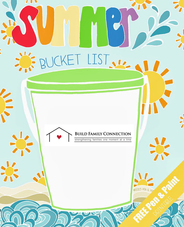 If you are in the full swing of summer and feel like you're running out of ideas, ask the experts!  
Our kids know what they like and what's important to them.  So when making plans this summer, make sure and get their input.  It may sound obvious, but sometimes in the hustle I forget to ask.
When I do, I'm the only one invested and I hear things like, "How come you always get to decide?  Why do we have to do this?  Whose idea was THIS anyway?  Seriously?  Do we have to?  Why do you get to choose?  Why can't we ever do what I want?"   That gets old real quick and I end up feeling unappreciated and frustrated.  Sound familiar?   


Another part of the problem is when my kids are bored, they don't really like my ideas.  What!?  I have great ideas!  But, if I have a way to reference their hopes and dreams, they are much more likely to engage.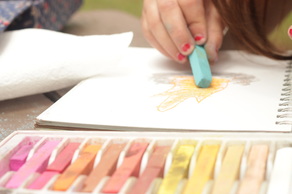 Learning to draw with pastels
That's where the summer bucket list comes in handy.  
Simply ask each member of the family what they'd like to do this summer.

Record their responses.  This is a brainstorming session so all ideas get collected and recorded. 
 "All the ideas?" you ask.  Yes, all of them.  Even the trip to the moon or as one of my teens listed,base jumping–yikes!!  Write it down and get creative later.  Moments of connection come in the simple everyday stuff.  Instead of a trip to the moon, throw a sheet over the kitchen table, grab a pack of glow in the dark stars from the dollar store, and lay on pillow beneath the table to create constellations.  Help older kids collect large cardboard boxes for space tunnels or rocket ships.  Use the list from your teenager for conversations points and discover areas of interest.

We aren't creating a list of absolutes and we don't have to worry about how or if we can accomplish everything.  Our goal is to hear the voices of our children and allow them to bring shape to our family.  A helpful phrase may be, "We won't get to do everything but I want to hear what you love and enjoy."


There is not a right or wrong way to do this.  

It can have as much or as little structure as you'd like.  

Each person can have his/her own or you can create a family bucket list.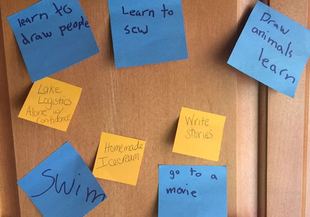 Two years ago it w
as notebook paper folded into fourths.  Last year we used multi color post-it notes that ended up on a designated kitchen cupboard.  These are the leftovers from last year.  
Yes, still on the cupboard!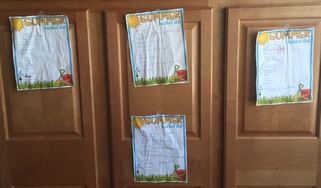 This year I used this
design from Kate Hadfield
and added a few questions for each child to fill out.  These questions are specific to my big picture for the summer.  (Design with questions available to download below!) Things that made our list:  learning how to cook wings, take a rock climbing class, go swimming at night, go on a cool hike, and many more way out of my reach!  
However you approach it, keep it simple and post it somewhere for inspiration and flexible accountability.
Maybe we can't go to the beach or the moon, but we can create everyday moments of connection.  For those outlandish ideas that make it on the list try this, "Ya know, I'm not really up for base jumping, pretty much outside of my comfort zone.  How could we bring that same style of fun to our summer?  What do you think?"  I'm thinking rock climbing gym, a sky diving wind tunnel, or watching base jumping videos together.  Whatever it is, stop and ask!  
When we invite the voice of our children into the planning process, we give them the gift of connection and communicate that they are a valuable part of our family.  Everyone wants to be heard!
Download and enjoy your free Summer Bucket List worksheet!