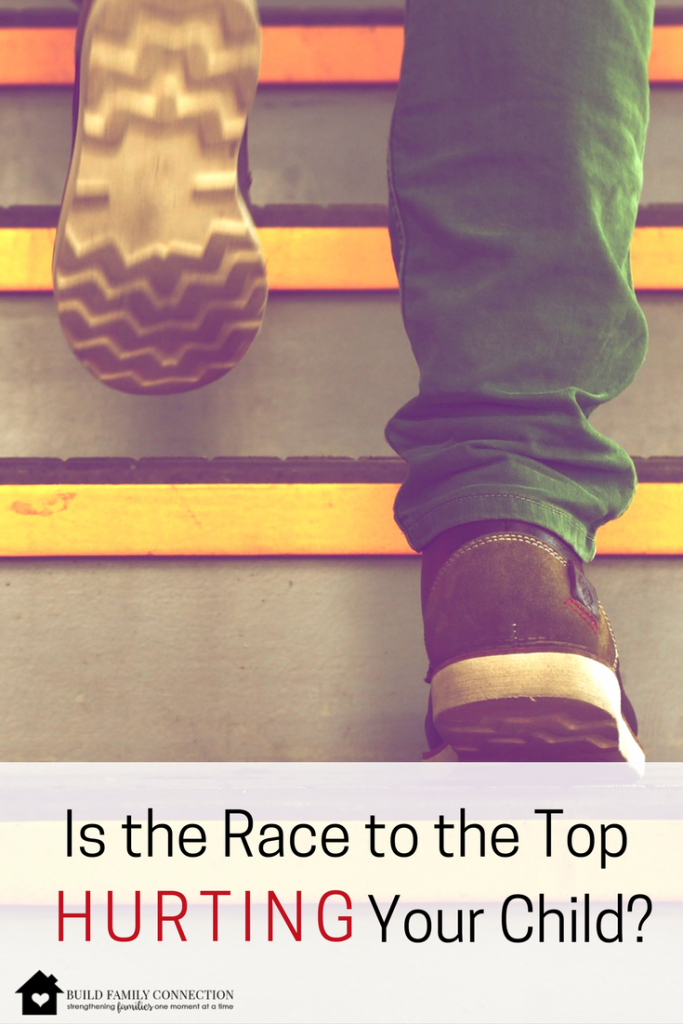 As parents, we want our kids to stretch, learn, and grow. We try and teach them to value hard work.  We encourage them to do their best.  But somewhere along the way, a shift in mindset can occur.  It's so subtle that we don't even realize it's happening.  It's the shift from encouraging excellence and growth to chasing perfection.  The race to the top.  To be the best.
Sadly, we're not the only ones impacted by this shift in mindset.  A tremendous amount of pressure falls on our children as we unintentionally send the message, "You will never be enough."  Maybe a few examples will illustrate.
In sports, making the team is good.  Playing time is better.  Starting every game is great, but college scouts and scholarships—that's the best.
In the arts, playing an instrument is enriching.  Playing in the top musical group is fantastic.  Now it's time to practice and get a higher chair placement. Next, the solo part.  And finally, play the solo flawlessly with expression for a large audience.
Academically, it's important to study hard, get good grades, and take advanced courses.  Never miss a day of school. Earn a 4.0+ GPA.  Finally, get into the best college and earn scholarships.
Socially, have a lot of friends.  Don't forget student council and service clubs.  Never sit home on a Friday night.  Always have fun and be surrounded by people who adore you.
Unfortunately, this seemingly small shift in mindset perpetuates and becomes the foundation of an unwritten set of rules and personal definitions of success.
I hear it over and over again from elementary age children to adults with kids of their own.  It sounds like:
"It doesn't matter what I do, my parents will always find something wrong."
"I'm tired of trying, I'll never be good enough."
"Why do they have to care so much about whether or not we won?"
"Why isn't it ever enough for them?"
The message our kids hear is loud and clear.  I don't believe that's the message we intend or want to send.
So what do we do?
Look at truth.
Shift how you communicate love.
Connect with children for who they are.
Click the NEXT button below for specific examples of how to put these 3 things into action.