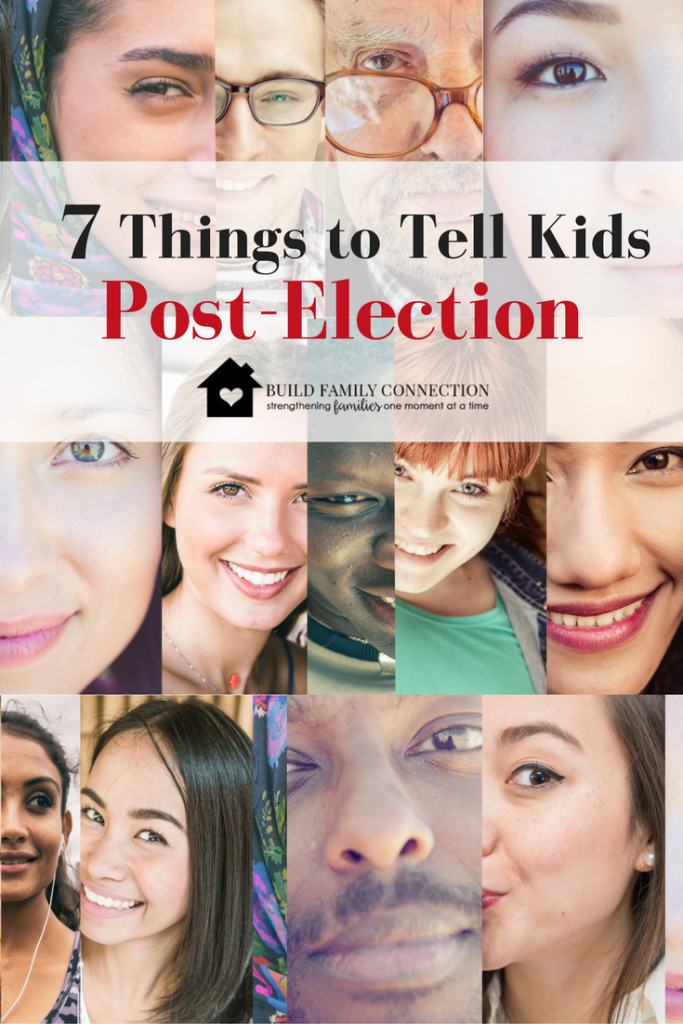 With all of the emotion swirling around America this week, one question keeps resurfacing that I can't ignore.  Parents, teachers, counselors, mentors, and coaches of all varieties are asking:
What am I going to tell my children?
May I humbly suggest a few ideas?
I believe our children need to hear these 7 things regardless of our political preferences.
 

Tell your children that nobody on earth has the power to force them to believe something that is not true. 

Not a bully, not the insecure kid on the bus, and not the President of the United States.
 Tell your children that, while we do not get to choose the consequences of our actions, we always get to choose our actions.  Nobody makes you mad, sad, frustrated, or happy.  Nobody makes you anything.  You choose.  Yes, choosing is hard and it takes practice.  Take your time and choose your actions wisely.

 Tell your children that learning new things is scary only when we are afraid of failure. 

Failure is a gift because it means we tried to make a difference.  Failing is how we get better.  The only real failure is not trying in the first place.
 Tell your children that everybody matters.  Better yet, show them by example.  Pay attention to the people around you and treat them with kindness.  Quit yelling at the terrible drivers, thank the grocery store clerk, make a point of calling people by their name, and for heaven's sake, smile.
 Tell your children that all of their feelings are important.  Feelings are our personal warning.  They help us learn what we enjoy and make us aware of the things we don't.  Make your home a safe place to recognize and talk about all of their feelings.  Children who understand what their feelings mean can trust themselves and are not easily swayed by the crowd.
 Tell your children your family story.  Research has shown that children are stronger when they know they are part of something greater than themselves.  Share with them the stories of your family, the good and the bad.  Let them see that your family team has overcome challenges before and will do it again.
 Tell your children that you love them.  Tell them that nothing will change that love.  Tell them that you know they are going to mess up.  You know they will make different choices than you would.  You know that sometimes they will choose poorly, sometimes they will choose disastrously, sometimes they will act carelessly, and sometimes they will totally implode.  Guarantee them that you will not like everything they do.
Tell them you will love them no matter what.
What you are telling your children every day is more important than what is happening in the media, at school, or in Washington D.C.
Our hope for the future is in what we teach our children. You've got this.